Ultra thin li polymer rechargeable battery for single wheel e-bike
| | |
| --- | --- |
| Product name | Ultra thin li polymer rechargeable battery for single wheel e-bike |
| Model | DTP501220 |
| Cell type | Lithium polymer battery |
| Nominal capacity | 100mah etc. ,Customizable battery capacity |
| Maximum cutoff voltage | 3.7v |
| Maximum discharge current | 0.2c/1c |
| Connector type | Jst /molex (Can be selected according to demand) |
| Operating temperature | 10ºC-60ºC |
| Battery internal resistance | 35mΩ to 50mΩ |
| Product Certificate | IOS9001 CE RoHS UL IEC CB KC |
| Long battery life | 500 times |
| Packing and shipping | Industrial carton packaging that meets international air and shipping standards |
| Is it the manufacturer's supply? | Yes, DATA POWER is a lithium battery manufacturer with 13 years of production experience. |
| Does it support sample testing? | Yes !! |
| Product production cycle | 2 to 3 weeks after ordering, the fastest 3 days delivery. |
| Application field | Digital product ,Medical Facilities , GPS MP3/MP4/Mobile phone etc. |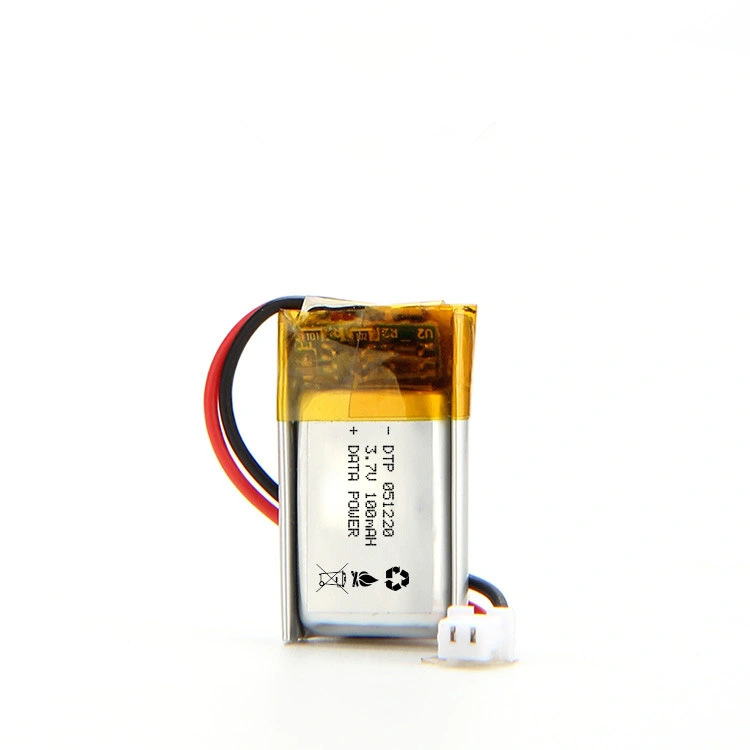 Please contact the account manager for more information on the product list
| | | | | | |
| --- | --- | --- | --- | --- | --- |
| Model | Voltage | capacity | certificate | Discharge current | MAX size |
| DTP401430 | 3.7v | 130mAH | KC,UL,CE,MSDS | 1C | 4.2*14.5*32mm(T*W*L) |
| DTP452030 | 3.7v | 200mAH | KC,UL,CE,MSDS,UN38.3 | 1C | 4.7*20.5*32mm(T*W*L) |
| DTP502030 | 3.7v | 250mAH | KC,UL,CE,MSDS,UN38.3 | 1C | 5.2*20.5*32mm(T*W*L) |
| DTP502535 | 3.7v | 400mAH | KC,UL,CE,MSDS,UN38.3 | 1C | 5.2*20.5*37mm(T*W*L) |
| DTP503030 | 3.7v | 400mAH | KC,CB,UL,CE,MSDS,UN38.3 | 1C | 5.2*30.5*32mm(T*W*L) |
| DTP403040 | 3.7v | 450mAH | KC,UL,CE,MSDS | 1C | 4.2*30.5*42mm(T*W*L) |
| DTP652533 | 3.7v | 500mAH | KC,UL,CE,MSDS,UN38.3 | 1C | 6.7*25.5*35mm(T*W*L) |
| DTP503040 | 3.7V | 550mAH | KC,UL,CE,MSDS,UN38.3 | 1C | 5.2*30.5*42mm(T*W*L) |
| DTP702248 | 3.7v | 700mAH | KC,UL,CE,MSDS,UN38.3 | 1C | 7.2*30.5*50mm(T*W*L) |
| DTP503048 | 3.7V | 720mAH | KC,CB,UL,CE,MSDS,UN38.3 | 1C | 5.2*30.5*50mm(T*W*L) |
| DTP603048 | 3.7v | 900mAH | KC,UL,CE,MSDS,UN38.3 | 1C | 6.2*30.5*50mm(T*W*L) |
| DTP703048 | 3.7V | 1000mAH | KC,UL,CE,MSDS,UN38.3 | 1C | 7.2*30.5*50mm(T*W*L) |
| DTP803040 | 3.7V | 1000mAH | KC,UL,CE,MSDS,UN38.3 | 1C | 8.2*30.5*50mm(T*W*L) |
| DTP523455 | 3.7v | 1000mAH | KC,UL,CE,MSDS,UN38.3 | 1C | 5.4*34.5*57mm(T*W*L) |
| DTP503759 | 3.7v | 1200mAH | KC,UL,CE,MSDS,UN38.3 | 1C | 5.2*37*61mm(T*W*L) |
| DTP103040 | 3.7v | 1200mAH | KC,UL,CE,MSDS,UN38.3 | 1C | 10.2*30.5*42mm(T*W*L) |
| DTP903450 | 3.7v | 1500mAH | KC,UL,CE,MSDS,UN38.3 | 1C | 9.2*34.5*52mm(T*W*l) |
| DTP505060 | 3.7v | 1700mAH | KC,UL,CE,MSDS,UN38.3 | 1C | 5.2*50.5*62mm(T*W*L) |
| DTP103450 | 3.7V | 1800mAH | KC,UL,CE,MSDS,UN38.3 | 1C | 10.2*30.5*52mm(T*W*L) |
| DTP634169 | 3.7v | 2000mAH | KC,UL,CE,MSDS,UN38.3 | 1C | 6.5*41.5*71mm(T*W*L) |
| DTP555075 | 3.7v | 2500mAH | KC,UL,CE,MSDS,UN38.3 | 1C | 5.7*50.5*77mm(T*W*L) |
| DTP655565 | 3.7v | 2800mAH | KC,UL,CE,MSDS,UN38.3 | 1C | 6.7*55.5*67mm(T*W*L) |
| DTP554499 | 3.7v | 3000mAH | KC,UL,CE,MSDS,UN38.3 | 1C | 5.5*44.5*99mm(T*W*L) |
| DTP105050 | 3.7v | 3000mAH | KC,UL,CE,MSDS,UN38.3 | 1C | 10.2*50.5*52mm(T*W*L) |
| DTP104065 | 3.7v | 3000mAH | KC,UL,CE,MSDS,UN38.3 | 1C | 10.2*40.5*67mm(T*W*L) |
| DTP894472 | 3.7v | 3200mAH | KC,UL,CE,MSDS,UN38.3 | 1C | 9.1*44.5*74mm(T*W*L) |
| DTP656294 | 3.7v | 4000mAH | KC,UL,CE,MSDS,UN38.3 | 1C | 6.5*62.5*96mm(T*W*L) |
| DTP105565 | 3.7v | 4200mAH | KC,UL,CE,MSDS,UN38.3 | 1C | 10.2*55.5*67mm(T*W*L) |
| DTP105085 | 3.7v | 5000mAH | KC,UL,CE,MSDS,UN38.3 | 1C | 10.2*50.5*87mm(T*W*L) |
| DTP401220 | 3.7v | 60mAH | CB | 1C | 4.2*12.5*22mm(T*W*L) |
| DTP452025 | 3.7v | 150mAH | CB,UN38.3 | 1C | 4.7*20.5*27mm(T*W*L) |
Lithium batteries are widely used in various fields: digital products, medical equipment, public equipment, communication equipment, automobiles, drones, etc.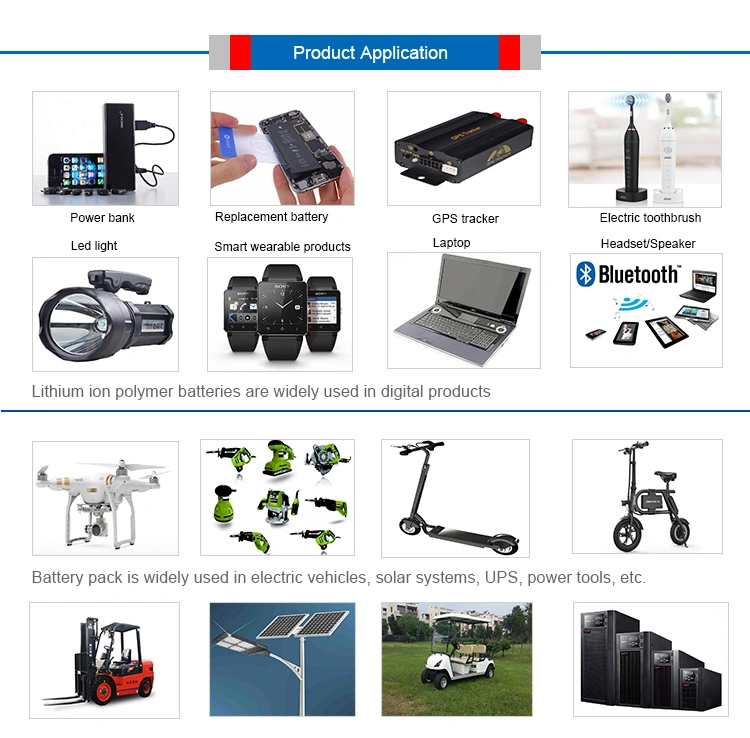 What are the advantages of polymer batteries?
1.Good safety performance

The polymer lithium battery is made of aluminum-plastic flexible packaging, which is different from the metal casing of the liquid battery.Once the safety hazard occurs, the liquid battery is easy to explode, and the polymer battery can only be air-blasted at most.



2.Small thickness, can be made thinner



Ultra-thin, the battery can be assembled into a credit card.Ordinary liquid lithium battery adopts the method of customizing the outer casing first, and then plugging the positive and negative materials.The thickness is 3.6mm or less, there is a technical bottleneck.The polymer battery core does not have this problem, and the thickness can be less than 1mm, which meets the needs of current mobile phones.Direction.



3.Light weight



A battery using a polymer electrolyte does not require a metal shell as a protective outer package.The weight of the polymer battery is 40% lighter than the steel shell lithium battery of the same capacity specification, which is 20% lighter than the aluminum shell battery.

4.Large capacity

The polymer battery has a capacity of 10-15% higher than that of the same size steel shell battery, which is 5-10% higher than that of the aluminum shell battery.It is the first choice for color screen mobile phones and MMS mobile phones.Nowadays, the new color screen and MMS mobile phones on the market are mostly used.Polymer batteries.

5.Small internal resistance

The internal resistance of the polymer battery core is smaller than that of the general liquid battery.At present, the internal resistance of the domestic polymer battery core can even be less than 35MΩ, which greatly reduces the self-consumption of the battery and prolongs the standby time of the mobile phone.The level of integration with the international.This polymer lithium battery that supports large discharge currents is an ideal choice for remote control models and is the most promising alternative to nickel-metal hydride batteries.



6.Shape can be customized



Manufacturers are not limited to standard shapes and can be economically made to the right size.Polymer batteries can increase or decrease the thickness of batteries according to customers' needs.Develop new battery models, which are cheap, open cycle is short, and some can even be customized according to the shape of mobile phones to make full use of battery casing space and upgrade batteries.Capacity.

7.Good discharge characteristics

The polymer battery uses a colloidal electrolyte, which has a smooth discharge characteristic and a higher discharge platform than a liquid electrolyte.

8.The protection board is simple in design

Due to the use of polymer materials, the battery core does not ignite or explode, and the battery core itself has sufficient safety.Therefore, the protective circuit design of the polymer battery can be omitted by omitting the PTC and the fuse, thereby saving battery cost.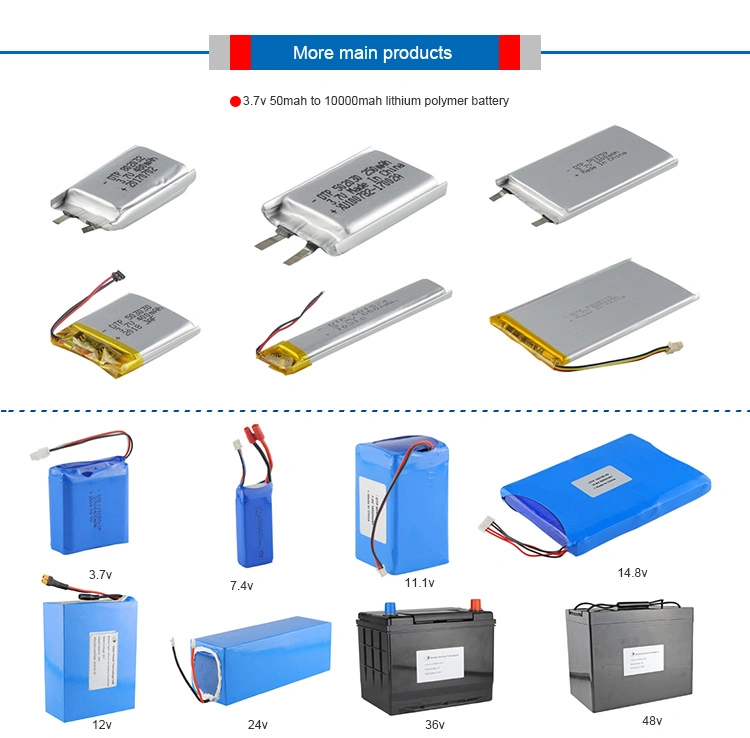 Product Certificate:SGS Field certification,CE CB RoHS KC etc.
Main supply products:Li-ion battery ,li-polymer battery , LiFePO4 battery , 18650 battery , 3.7V to 72V battery pack , UPS , Power bank .Provide customized services!!
DATA POWER factory output exceeds 30,000 PCS battery, battery pack daily output is 10000PCS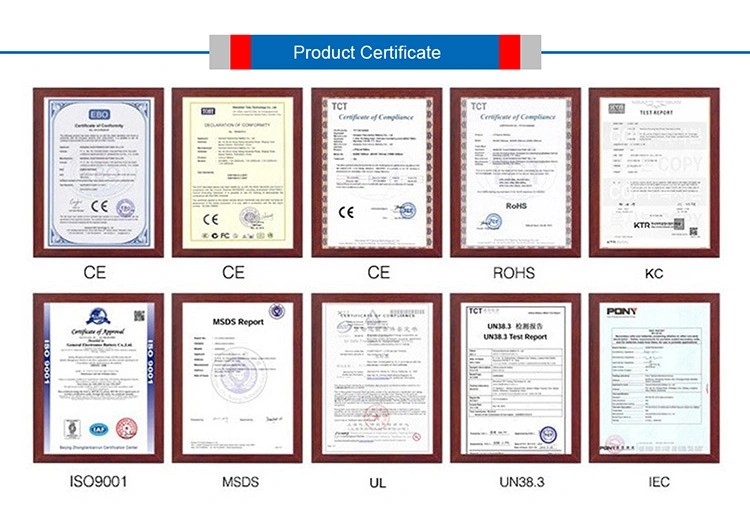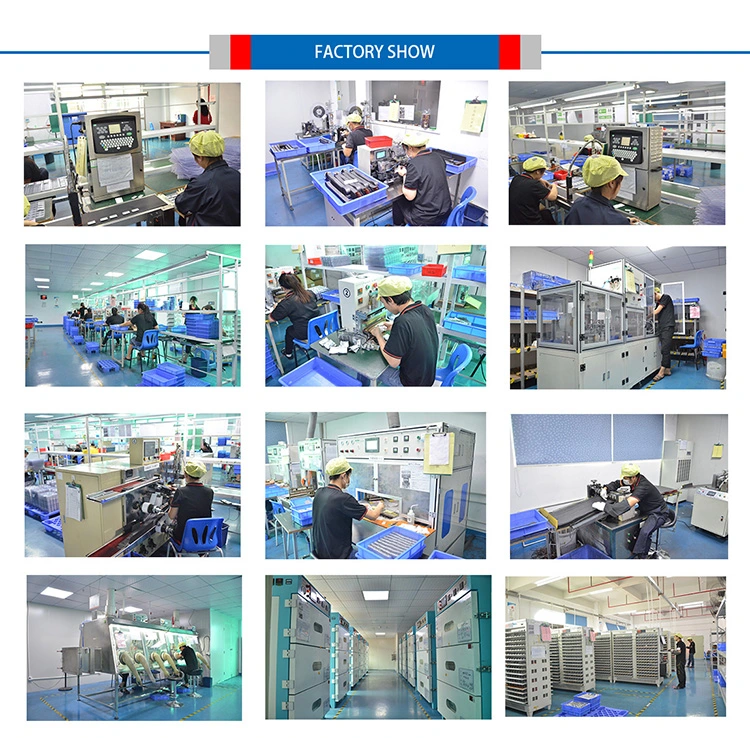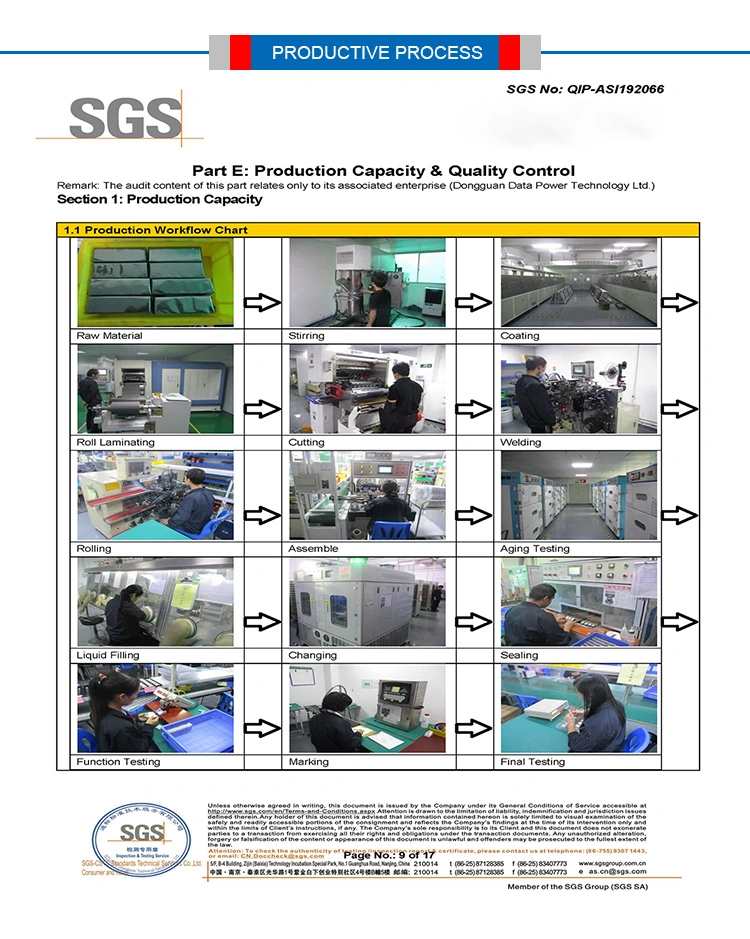 We have long-term cooperation with more than 20 countries around the world to support cargo door-to-door service. Once we cooperate, we will continue to provide you with after-sales service.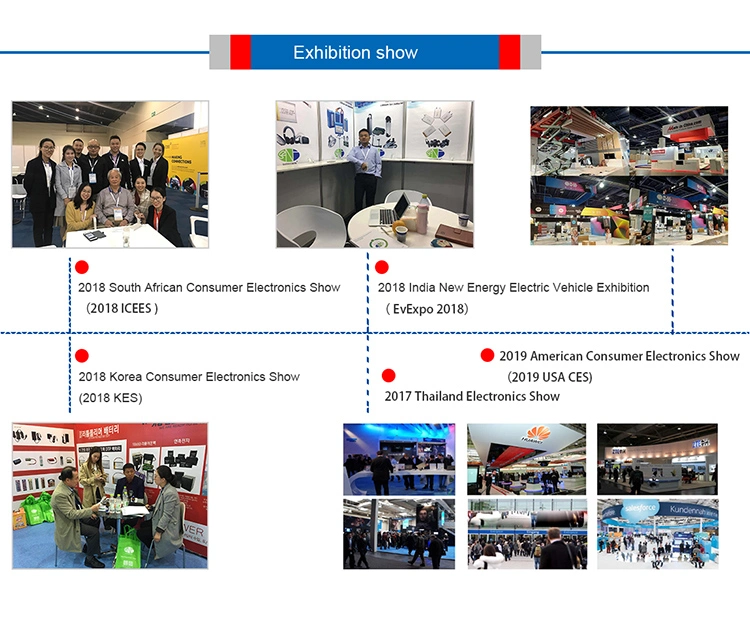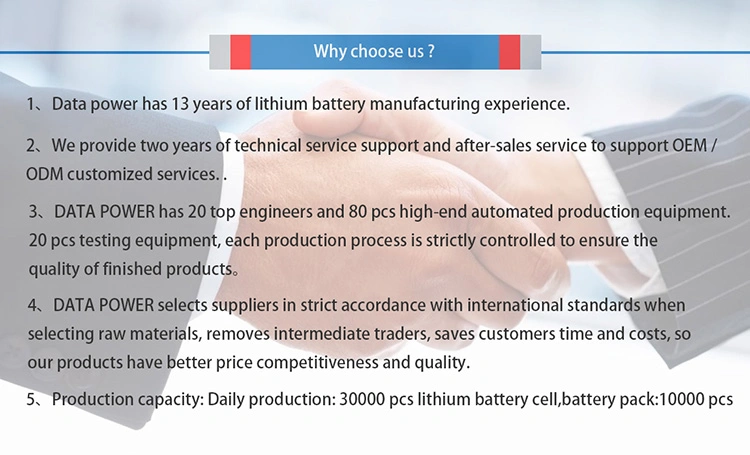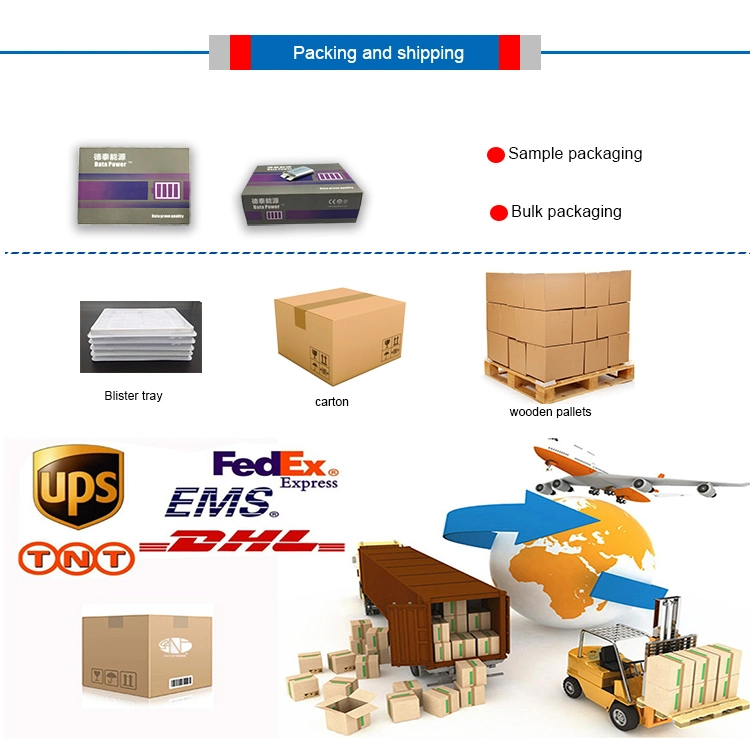 Q1: Can I get free sample?
A1: Generally we don't provide free sample, but we can return sample cost when the buyer place the bulk order.
Q2: What is delivery time if we place an order?
A2: It's depends on the order quantities. Usually, we can deliver goods within 3 -5 working days for small orders. For bulk order, let's confirm when you place official order.
Q3: What's your payment and delivery terms?
A3: Payment terms: By T/T, 30% for deposit, and balance all before shipment. For small amount, we also accept payment via PayPal.
Q4: What company will be used for making the shipments? DHL? UPS or others?
A4:Normally, we ship our battery via DHL,UPS and FedEx.
Q5: What is your package looks like? Can I have the customized package?
A5: We have factory's current standard package, customized print logo shall be complied to buyer's requirements, and the extra charges will be borne by the buyers, for more details, please contact us.
Q6: Are your factory or trading company?
A6: We are professional battery manufacturer with our own factory and brand. We provide all kinds of OEM/ODM services for clients all around the world.
Q7: Where are your company's major markets?
A7: Our company focus on high quality batteries in North Amercia, Europe, Korea and Japan markets.
Q8:What's your advantage compared with other suppliers?
A8 a) High quality batteries: Our batteries are in enough capacity, and lower in RI,
Before shipment, we will inspect the products and ensure the quality which are well approved by our clients.
b)Better service: We always offer what our clients need. Reply client's questions in time. Supply best projects solution for clients. We ship out the products on time.
Q9: Can we visit your factory before placing an order?
A9: Of course, no problem, we are always welcome to visit the factory.
Please send us an email for more product details.!