Specifications:
1. Tire: 14.00-24
2. Multi Pieces: 3PCS, 5PCS
3. Type: TL / TT
4. Application:
5. Type: Rim only; Rim with disc;
6. ISO Certificate
Color:
RAL1028, RAL9006, RAL9007
Custom colors are available by request to meet your needs.
Package:
In pallets
Components are also can be supplied such as
- rim base,
- bead seat band,
- lock ring,
- side ring/flange
- Drive key
- Drive pocke
- Gutter section
- Back section
Specialized in manufacturing and exporting all kinds of tyres and wheels to all over the world.And we can supply wheel rims and tires,and are especially professional
in truck wheel,agricultural wheel and assemblies and components for OTR wheel and engineering wheel with multi-pieces for earthmover.
And we have dealt OTR wheel for many years. The main markets of us are Australia, South Africa, South America, North America (Canada) and Asia. We also supply OEM service to many vehicle factories not only in domestic but also abroad,and now available a wide range of Earthmover wheels with diam from 20" to 63" for mine, underground, port and bridge, etc. And the rim components such as bead bands, lock rings, side rings and wheel rims for CAT, Komatsu, Volvo, Dressta models etc. also can be supplied.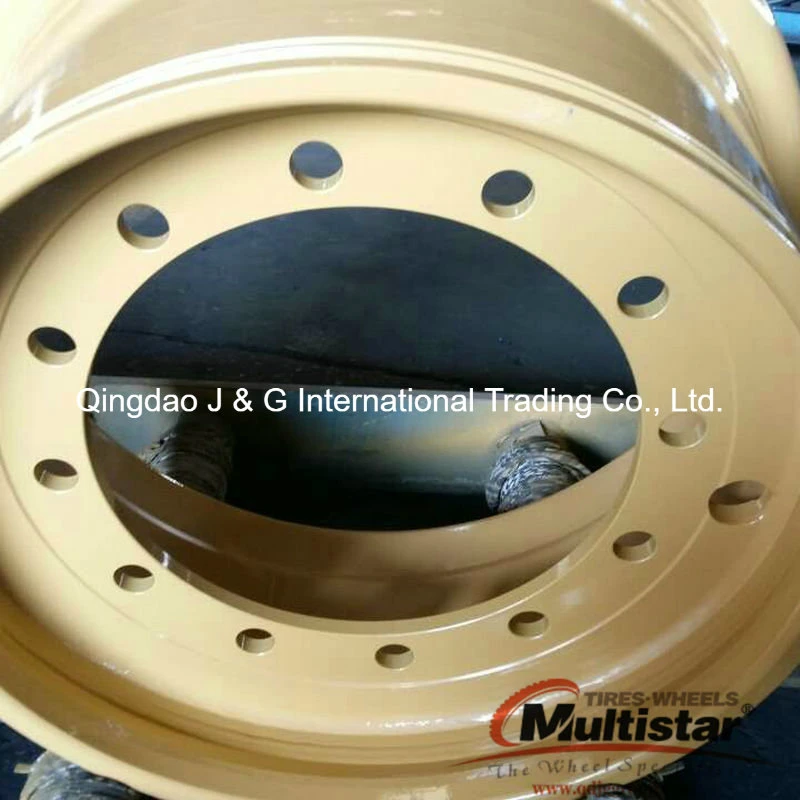 Other available OTR WHEEL RIM sizes as following
Diameter
Type
Description
Tyres
15"
Multipieces
15-9.75/1.37
12.00-15
15-11.00/1.5
14.5-15
15-11.50/1.5
16"
Multipieces
16-8.00/0.83
11L-16
16.5
Multipieces
16.5-8.25/0.5
10-16.5
16.5-9.75/0.5
12-16.5NHS
17.5"
Multipieces
17.5-10.50/0.5
14-17NHS
18"
Multipieces
18-9.00/1.0
12.5/80-18
20"
Multipieces
20-7.50/1.7
10.00-20
20-8.0/1.7
11.00-20
20-8.0/2.0
12.00-20
20-8.50/1.7
12.00-20
20-9.00/1.7
13.00-20
20-10.00/1.7
14.00-20 14.00R20 365/80-20
20-10.00/2.0
14.00-20 14.00R20
20-11.00/1.6
12.5-20
20-12.00/2.0
15.5-20 16.00-20
20-13.00/1.0
16/17-20
20-14.00/2.0
17.5-20
20-15.00/1.0
500/70-508
20-15.00/1.7
18L-20
20-15.30/2.0
500/70-508
21"
Multipieces
21-11.25/2.0
16.00-21
21-17.00/2.0
20.00-21 1300X530-533
21-18.00/1.5
24.00R21 24.00-21
21-18.00/1.7
24.00R21 24.00-21
22"
Multipieces
22-17.00/2.0
23"
Multipieces
23-11.00/1.5
14.00-23
23-18.00/2.0
24.00-23
24"
Multipieces
24-8.00/1.7
13.00-24
24-8.50/1.7
12.00-24
24-10.00/1.7
14.00-24
24-10.00/2.0
14.00-24
24-10.00VA
14.00-24 16.00-24TG
24-11.25/2.0
16.00-24
24-15.00/1.0
17.5-24
24-16.00/1.1
19.5-24
24-16.00/1.7
54*21-24
25"
Multipieces
25-8.50/1.3
13.00-25
25-9.50/1.7
14.00R25
25-10.00/1.5
14.00-25 14.00R25
25-11.00/1.7
16.00-25
25-11.25/2.0
16.00-25
25-12.00/1.3
15.5-25
25-13.00/2.5
18.00-25
25-14.00/1.5
17.5-25
25-14.00/2.0
17.5-25
25-15.00/3.0
21.00-25
25-17.00/1.7
20.5-25
25-17.00/2.0
20.5-25
25-19.50/2.5
23.5-25
25-22.00/1.84
26.5-25
25-22.00/3.0
26.5-25
25-24.00/2.5
29.5-25
25-24.00/3.0
29.5-25
25-25.00/3.5
26.5-25
25-36.00/1.5
24.00R35
26"
Multipieces
26-16.00/1.1
18.4-26
26-20.00/1.1
23.1-26
27"
Multipieces
27-21.50/2.4
57X25-27/50
27-23.50/2.5
57X25-27/50
27-24.50/2.4
26.00-27
28"
Multipieces
28-15.00/1.0
16.9-28
29"
Multipieces
29-17.00/3.5
24.00-29
29-24.00/3.0
776/65R29 775/65R29
29-24.00/3.5
776/65R29 775/65R29
29-25.00/3.5
29.5R29
29-27.00/3.5
33.25R29
33"
Multipieces
33-13.00/2.5
18.00-33
33-26.00/1.14
33-28.00/3.5
33.5R33 36/65R33
33-32.00/4.5
37.5 R 33
34"
Multipieces
34-14.00/1.3
34-16.00/1.3
53X18-34
35"
Multipieces
35-15.00/3.0
21.00-35
35-17.00/3.5
24.00-35
35-22.00/3.5
SOLID TYRE
45"
Multipieces
45-36.00/4.5
45/65R45
49"
Multipieces
49-17.00/3.5
24.00-49
49-19.50/4.0
27.00-49
51"
Multipieces
51-22.00/3.0
SOLID TYRE
51-28.00/4.5
SOLID TYRE
57"
Multipieces
57-29.00/6.0
40.00R57 46/90R57
63"
Multipieces
63-36.00/5.0
53/80R63
63-41.00/5.0
55/80-63
63-44.00/5.0
58/80-63