Forged Aluminum Wheel


Every Aluminum wheel can minus weight about 57% , and about 300KGS per trailer or truck . It makes more loading and comfortable driving.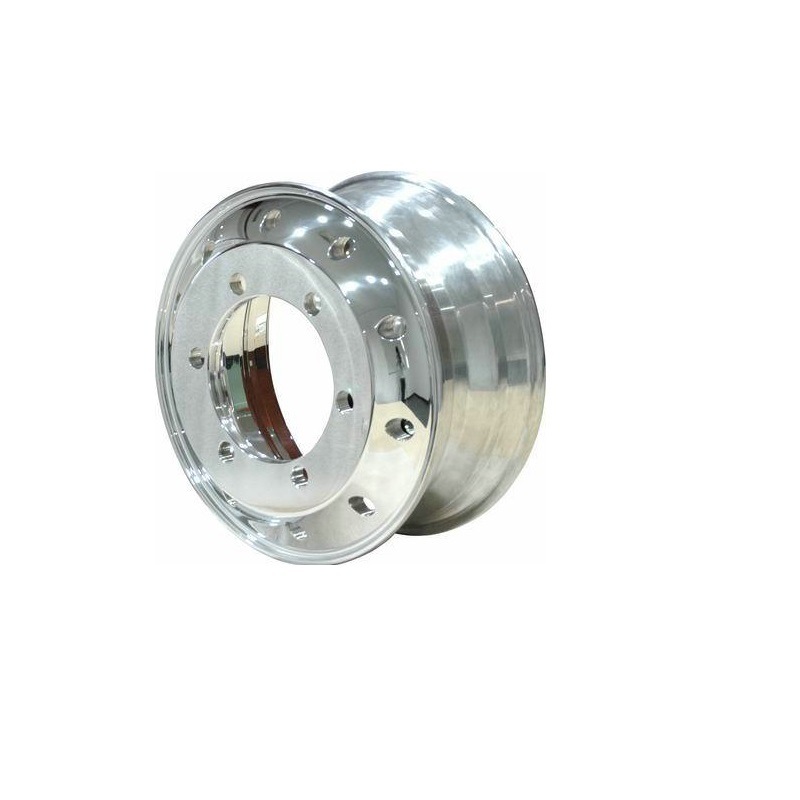 Material ---Aluminum Rod (6061) checked by the ultrasonic flaw detector to ensure materials are free of cracks,pores,corrosion spots and other defects.
FORGING PROCESS---- The most advanced 10000T forging machine.
The wheel rim is formed by the three-rotary-wheel and 6-shaft LEIFELD flow forming machine from Germany after the forming process is carried out.
POLISHING---- In order to gain a better polishing surface, we introduced a series of polishing machines from Spain. It can polish the wheels automatically and stable .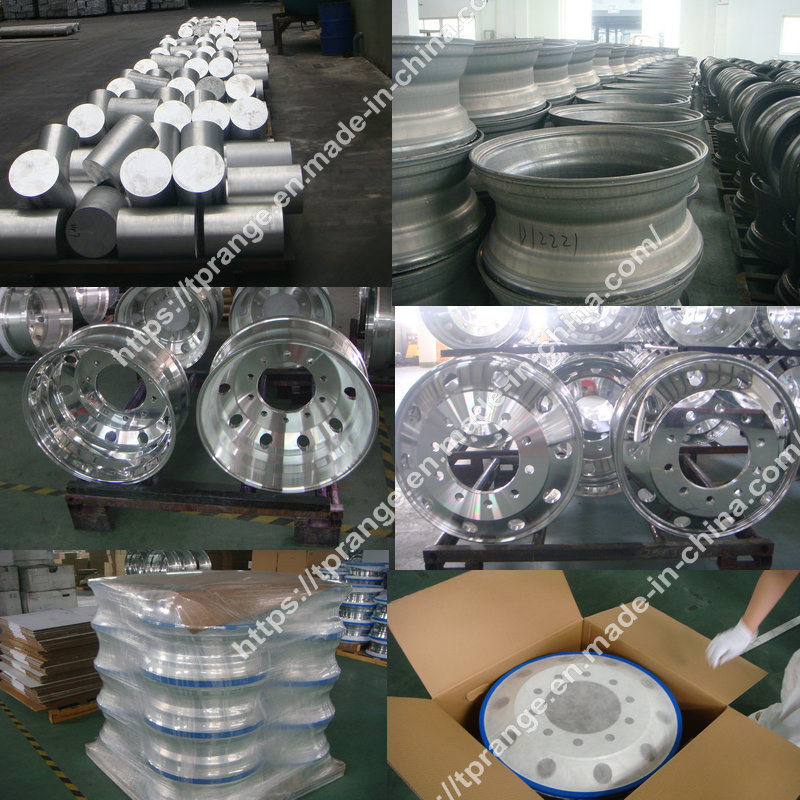 Points

Forged Aluminum Wheel

Steel Wheel

Aluminum wheel Advantages

1. Weight

~24KGS
lighter , better steering less mass ,better fuel efficiency
~45KGS
heavier , worse steering , more fuel consumption

half lighter than steel one

2. Material

High strength forging alloy -Aluminum Rod (6061)

Steel Plate

Higher strength

3. Manufacturing
method & structure
Rotary forging
integrated design no welding needed
Stamping , Rolling,Welding .
Durability concern on welding area

Forged from whole blank wheel, no weld-joint

4. Circularity

Numerical Control more rounder

Rolling

roundness

5. Dynamic balance

Uniform Density

smooth-ride in high speed

6. Heat radiation

High density no bebble ,high conductivity for heat

less conductivity for heat

3times than steel wheel ,make efficient Brake , reduce Tire ageing ,expand service life of tyres by 26%

7. Impact
resistance test
Almost zero demage
high strength , high impact resistance

damage seriously

5times than Steel one , higher safety

8. Mechanical
Capacity
Mechanical Capacity
Compressive Strength≥330Mpa
Yield Strength≥300Mpa
extension≥12%

deformable

protect tyres from eccentric wear

9. Compression
resistance

73000KGS deformed 5CM

13600KGS deformed 5CM

High intensity , 5.37times than steel ones

10. Appearance

Polished , Fine and Smooth
ultra-bright radiance , no surface pinhole
Murky grey , rough
less choice of surface finish

Polished , Fine and Smooth

11. Cost efficient

anticorrosion longer service life
3-4times than steel one
low price
corrosion shorter service life

3-4times than steel one

12. Recycle

95% recycled

95% recycled

13. Environment
protect

Save 22.9Kg of Co2 per KG of aluminum

Save 22.9Kg of Co2 per KG of aluminum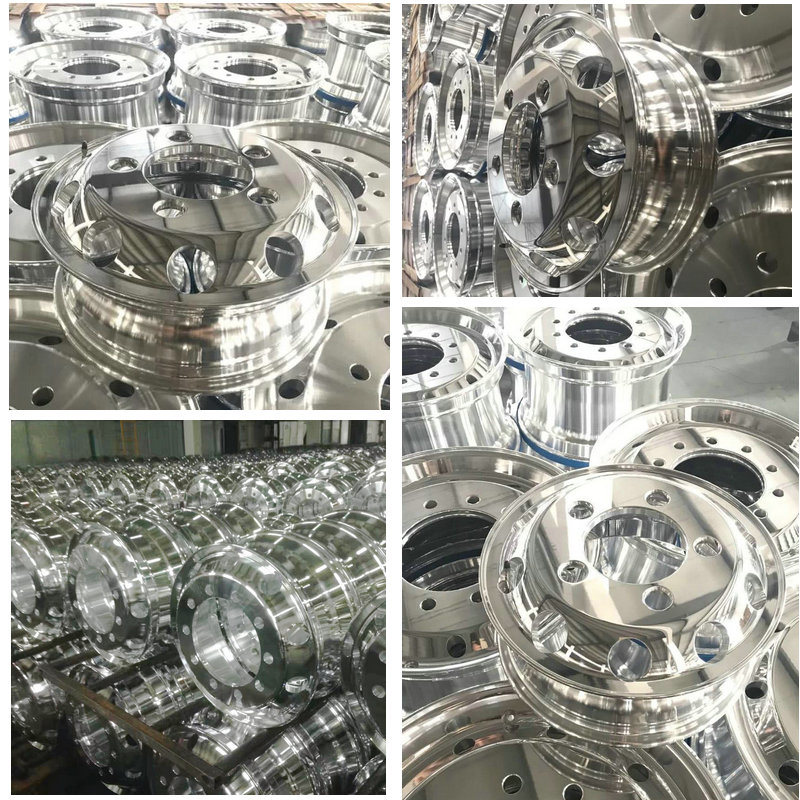 Forged Aluminum wheel Specifics
| | | | | | | | |
| --- | --- | --- | --- | --- | --- | --- | --- |
| SIZE | CB | Inset | Outset | Stud Diameter | PCD | Weight (KGS) | MAX LOAD (LBS) |
| 22.5x7.5 | 281.2 | 138 | 162 | 32.5 | 335*10 | 22.2 | 7800 |
| 22.5x7.5 | 221 | 138 | 162 | 32.5R22 | 285*8 | 24.1 | 7800 |
| 22.5x8.25 | 220 | 144.5 | 167.5 | 26.75 | 285.75*10 | 22 | 7400 |
| 22.5x8.25 | 221 | | | 32.5R22 | 285.75*10 | 22 | |
| 22.5x8.25 | 281.2 | | | 32 | 335*10 | 22 | |
| 22.5x9.00 | 220 | 152 | 177 | 26.75 | 285.75*10 | 24 | 9090 |
| 22.5x9.00 | 281.2 | 152 | 177 | 26.75 | 335*10 | 24 | 9090 |
| 22.5x9.00 | 281.2 | 152 | 177 | 32.5 | 335*10 | 24 | 9090 |
| 22.5x11.75 | 281.2 | 0 | 22 | 26 | 335*10 | 25 | 9915 |
| 22.5x11.75 | 281.2 | 0 | 22 | 26.75 | 335*10 | 25 | 9915 |
| 22.5x11.75 | 281.2 | 120 | 146 | 26 | 335*10 | 25 | 9915 |
| 22.5x11.75 | 281.2 | 120 | 146 | 26.75 | 335*10 | 25 | 9915 |
| 22.5*14 | 221 | 0 | 22 | 26.75 | 285.75*10 | 34.75 | 13440 |
| 17.5x6.00 | 202 | 120 | 141 | 26.75 | 245x6 | | |
| 17.5x6.75 | 202 | 120 | 141 | 26.75 | 245x6 | 14.2 | 2500KGS |
| 19.5x7.5 | 202 | 120 | 141 | 26.75 | 245*6 | 13.88 | 2500KGS |
| 24.5x8.25 | 281.2 | 145 | 168 | 32.5 | 335*10 | 29.36 | 7900 |
| 24.5x8.25 | 220 | 145 | 168 | 26.75 | 285.75*10 | 29.6 | 7900 |
| 24.5x8.25 | 221 | 145 | 168 | 32.5R22 | 285.75*10 | 27.78 | 7900 |


5year-warranty for all Forged aluminum wheel