Product Description
Brief Description of Short Path Distillation
Many materials, including petroleum,heavy residue, chemical medicine, medicine and natural food, health care products, fatty acid and so on, are generally heat sensitive and viscous. Moreover, they also possess high boiling points. Separating these materials from their components and maintaining the quality of such products are only able to distillate at low boiling points or even lower than the boiling temperature. Besides, it is also capable of
When the operating vacuum is about 500 Pa, it is capable of conducting in the scratch film evaporator or falling film evaporator. However, if the distillation is operate under the high vacuum status( for instance, the pressure ranges from 0.001 to 100Pa), problems are bound to cause. Therefore, it is necessary to choose the evaporator which the vapor pressure id no less than pressure difference caused by heating and cooling surface, and the evaporator quipped with outside condenser is excluded from the distillation process under the high vacuum range.
In contrast, the short-path evaporator is quietly adaptable to this occasion, and the condenser should be placed within evaporator and opposite to heat distillation. Therefore, as a relatively new equipment which is not widely applied in industrial production, the short-path distillation is able to solve many tough issues that normal distillation technical cannot conquered.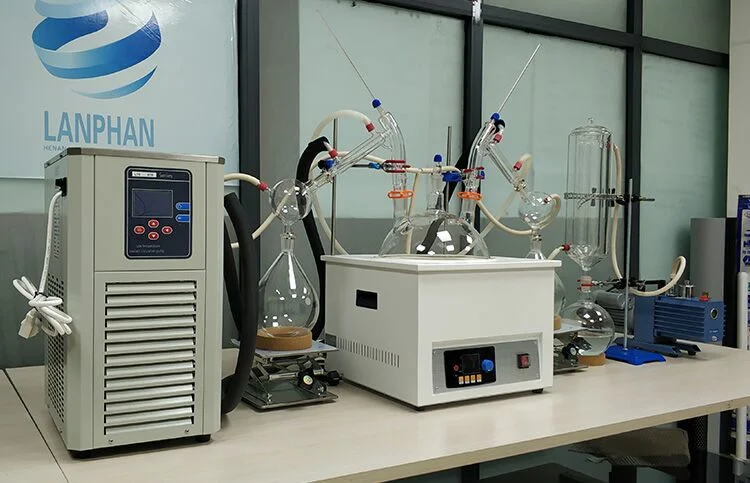 Product Display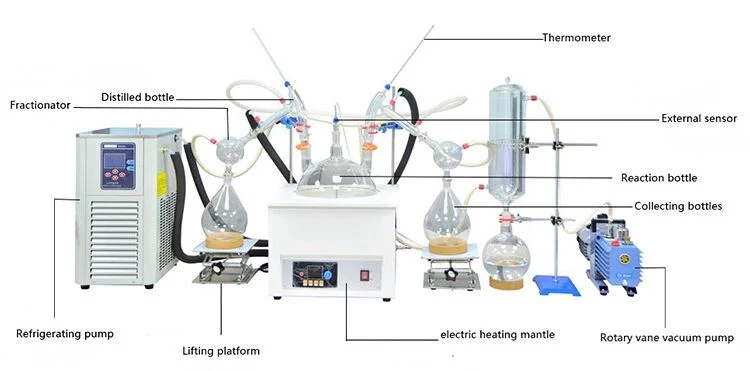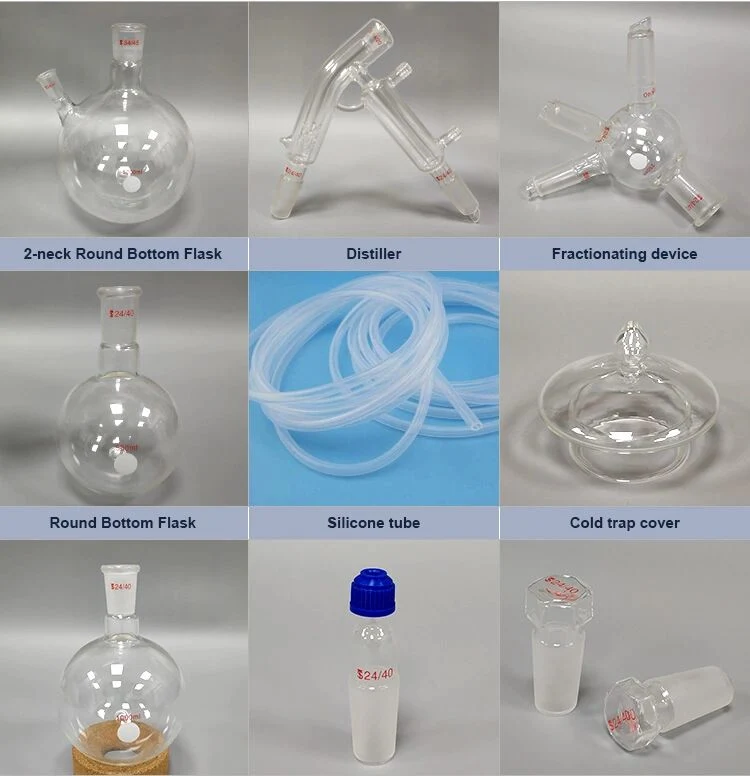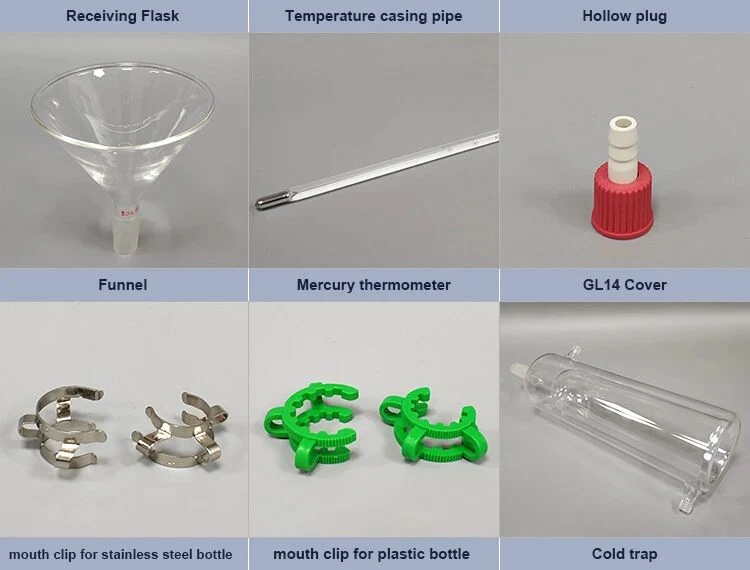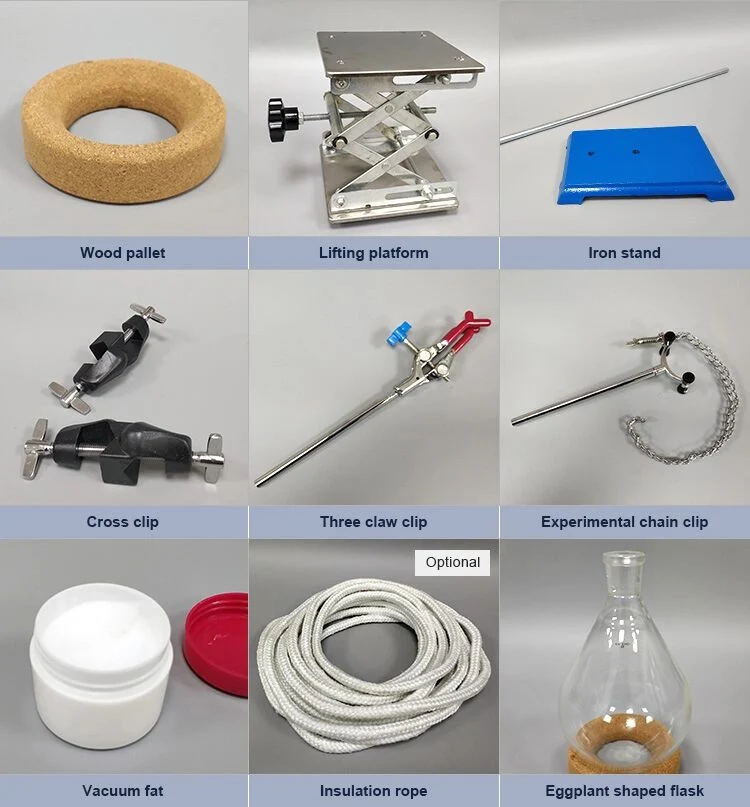 Accessories Name
Specification
Number
Unit
1
2-neck Round Bottom Flask
10L,34/45*2,24/40
1
piece
2
Distiller
34/45,24/40,14/20
2
piece
3
Fractionating device
500ml,24/40
2
piece
4
eggplant shaped flask
2000ml,24/40
2
piece
5
cold trap
80*350mm,24/40
1
piece
6
cold trap cover
70mm
1
piece
7
Receiving Flask
2000ml,24/40
1
piece
8
Temperature casing pipe
14/20
2
piece
9
Temperature casing pipe
24/40
1
piece
10
Hollow plug
14/20
2
piece
11
Hollow plug
24/40
1
piece
12
funnel
110mm,24/40
1
piece
13
Mercury thermometer
0-360ºC
2
piece
14
GL14 Cover
8
piece
15
mouth clip for Stainless steel bottle
34#
2
piece
16
mouth clip for Stainless steel bottle
24#
4
piece
17
mouth clip for plastic bottle
24#
1
piece
18
silicone tube
8*14
3
meter
19
Wood pallet
140
3
piece
20
Lifting platform (stainless steel)
200*200
2
piece
21
iron stand
140*200
1
piece
22
Cross clip
0-20mm
2
piece
23
Three claw clip
large
3
piece
24
Experimental chain clip
1
piece
25
Three links (plastic)
8mm
1
piece
26
vacuum fat (50g)
7501
1
box
Total
49
27
magnetic stirrer heating mantle
ZNCL-T
1
set
Accessories
main engine
1
Vertical rod
2
set
Cross clip
2
piece
External sensor
500mm
1
piece
internal sensor
1
piece
Tetrafluoro rotors
1
piece
28
rotary vane vacuum pump
2XZ-4
1
29
Temperature Control Low-Temperature Coolant Circulation Pump
DLSB-10/25
1
Short-Path Distillation
Model
SD-2
SD-5
SD-10
SD-20
Material
G3.3
Heating Capacity(ml)
2000
5000
1000
2000
Heating temperature(ºC)
Room temperature -250
Accuracy(ºC)
±1
Vaccuum Degree(Mpa)
0.098
Working temperature(ºC)
5-40
Voltage
220V/50Hz or 110V/60Hz
380V/50Hz
Package Size
450*450*600
580*580*735
850*850*600
Weight
18
24
30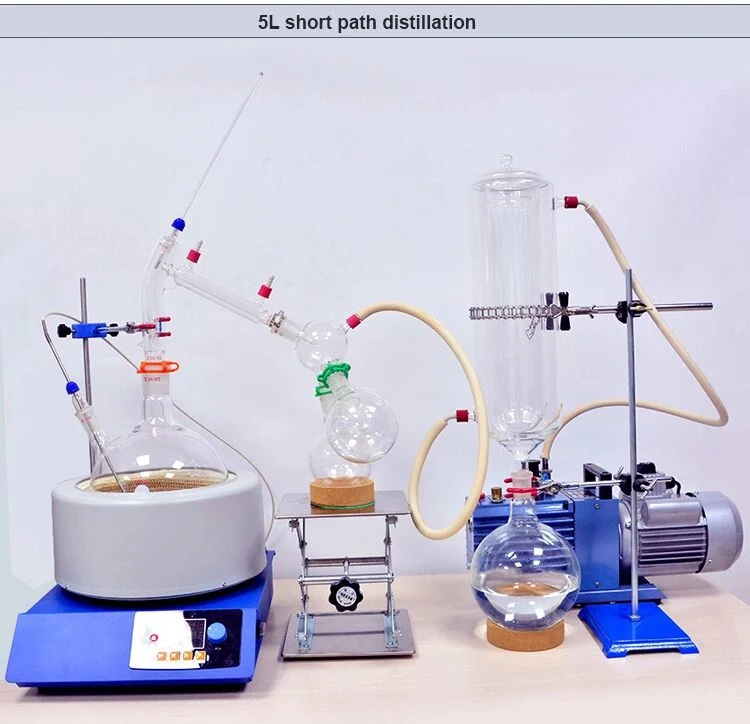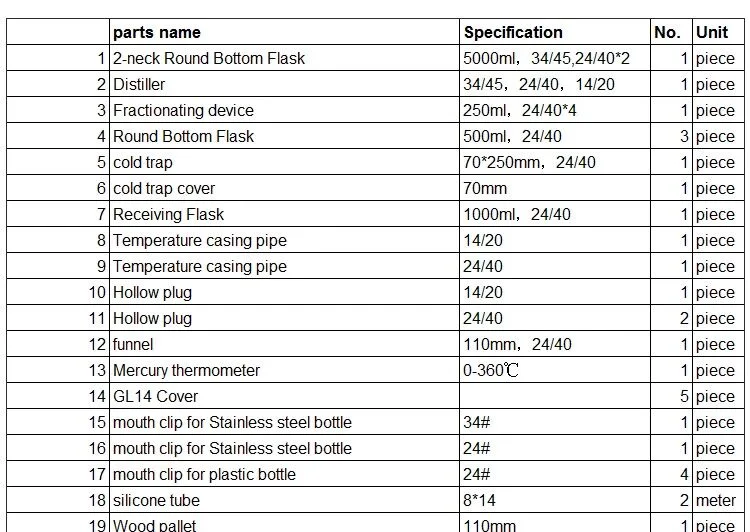 Workshop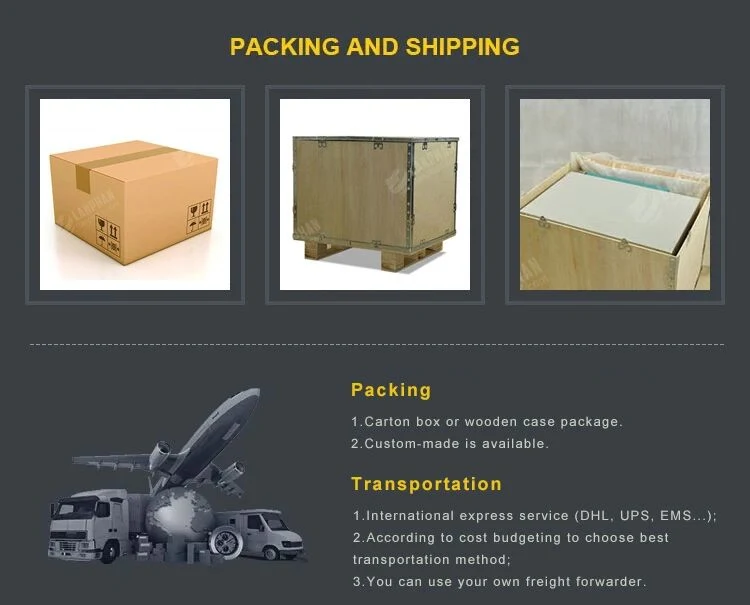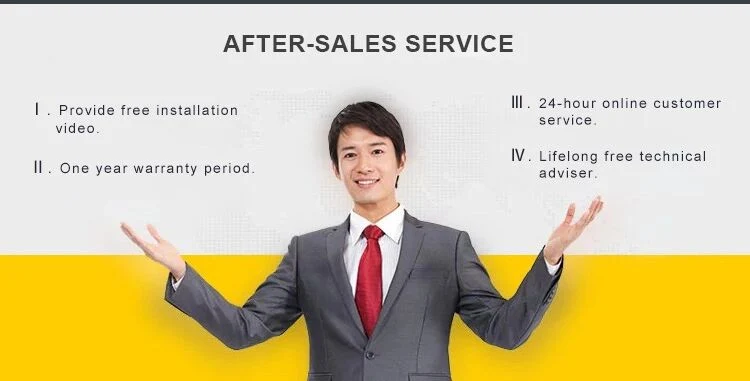 Q: What kind of plug can you supply?
A: European standard, American standard, German standard, or as your request.
Q: What payment terms do you accept?
A: T/T, Paypal, Western Union, Alibaba credit assurance, letter of credit, etc..
Q: What's the voltage of this china magnetic hotplate stirrer?
A: 110V/60HZ, 220V/50HZ, customized according to your requirements.